SITE: BROOKLYN
BROOKLYN, NY | SMALL & SMALLER | SEP 20 - OCT 20 2019

Juried by Heather Bhandari
Artists are not often asked to think small. In recent decades, the unbridled growth of the art market has found its correlate in the unbridled growth artworks themselves. From massive sculptural constructions, to immersive installations, to giant canvases, the small, delicate, and pared down seems to have little place. However, something is lost when there is little space for works that, through the intimation and surprise of details, manage to confound the viewer's expectations. In an attempt to open up this space, Small and Smaller has asked artists to go in the opposite direction and to think about the intimacy and beauty of art that explores space, color, and form on a miniature scale.
CHASHAMA GALA
ONE WORLD TRADE CENTER NYC | ONE SELF | Jun 2019
SeeMe's One Self celebrating identity and self-reflection. Digitally exhibited at the Chashama Gala & Afterparty in New York City. Chashama supports artists by partnering with property owners to transform unused real estate into spaces for artists to create, present, and connect with the mission to increase equity and bolster diversity in the arts.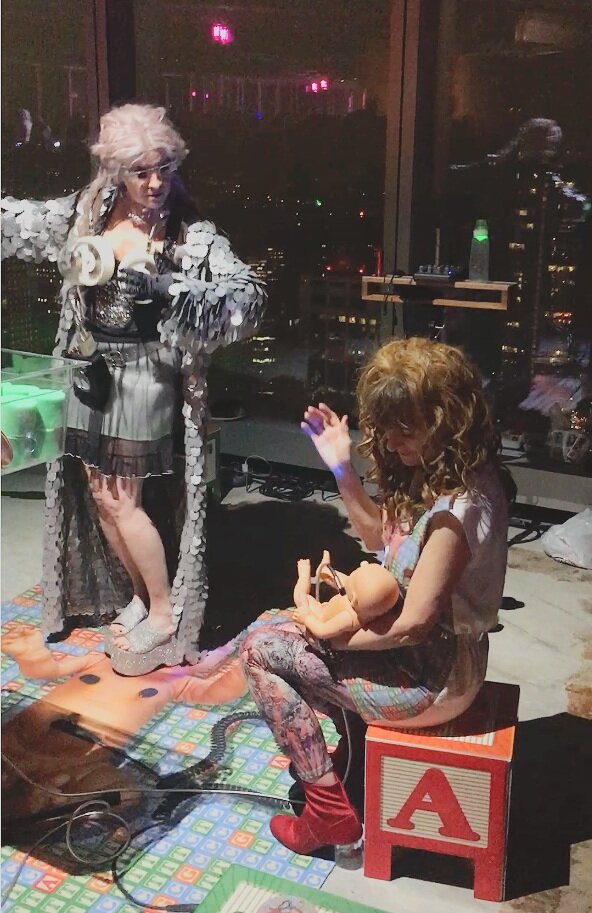 Art Bra Austin
Austin, TX | Jun 2019

Art Bra Austin juried art/design competition is a fully costumed, professionally produced runway show and auction to raise funds to support local women affected by breast cancer. Every year, Austin's artistic community submit original works of wearable art to be showcased by a dynamic group of Art Bra Austin Models, all breast cancer survivors. A record-breaking $677,000 was raised in 2019 to support Central Texas women and their caregivers facing the life-altering challenges of breast cancer.
SITE: BROOKLYN
BROOKLYN, NY | FACES | May - Jun 2018

Group exhibit that explores the new ways that artists are representing the character, disposition, and complexity of human faces curated by Jacqueline Towers-Perkins, Bonhams.
About the 'Faces' Exhibition: In visual arts it was the face, usually in portraiture, where the viewer found closely rendered depictions of individuals, which sought to reveal something of their character, personality or social position. However, in the post-war era a radical shift took place. Recent decades of art history have put the idea of ever accessing a true or unitary self into question, while at the same time opening up new avenues of expression, freeing artists to explore identities and themes previous kept at the margins. The show presents works, in a variety of mediums--print, painting, photography--from artists all across the world, engaging fruitfully with this new openness.
People's Gallery
Austin, TX | Feb - Nov 2018
Austin's People's Gallery is designed to showcase the work of regional artists and to encourage public dialog, understanding, and enjoyment of visual art. Each year, the Cultural Arts Division issues a call for artworks to Austin-area artists, galleries, museums, and arts organizations, and presents a year-long exhibition of works by over 100 local artists at the Austin City Hall.
Art on 5th, Austin TX
Bombay Sapphire Artisan Series | Sep 2017
The Bombay Sapphire Artisan Series is a national search to find the next big name in visual arts. Created in partnership with Russell and Danny Simmons' Rush Philanthropic Arts Foundation, the Artisan Series offers under represented artists a national platform to showcase their work. The contest extends to galleries in 14 regions across the US and Canada: New York, Chicago, Detroit, Philadelphia, Toronto, Montreal, Seattle, Vancouver, San Francisco, Los Angeles, Atlanta, Miami, New Orleans, and Austin.
Single Fare 4 NYC
HIGHLINE STAGES | Chelsea Group Exhibition | Sep 2017
The "Single Fare 4" exhibition presented thousands of artworks created on or with New York City Metrocards, with a portion of sales benefitting student scholarships at the Academy and the Alumni Association of the New York Academy of Art.
New York Academy of Art
NYAA | Summer Residency Group Exhibition | Jun 2016
The NYAA summer residency program, wrapped up its second year with a group exhibition by the 19 artists completing the month long residency program in Tribeca. The academy emphasizes contemporary figurative work based on classic art techniques.
Big Medium Austin
Big Medium | East Austin Studio Tour | Nov 2015
GOOGLE PRESENTS: PAINT THE TOWN
Google's (now Waymo) self-driving car project hopes to make it easier and safer for everyone to get around. As their prototype vehicles started to cruise the streets of Austin, Google invited Austinites to join Paint the Town and help transform the cars into moving pieces of public art. Google selected artwork from local artist, including Catherine Malloy and her daughter, Anna Vaught, for Austin's prototype vehicles.